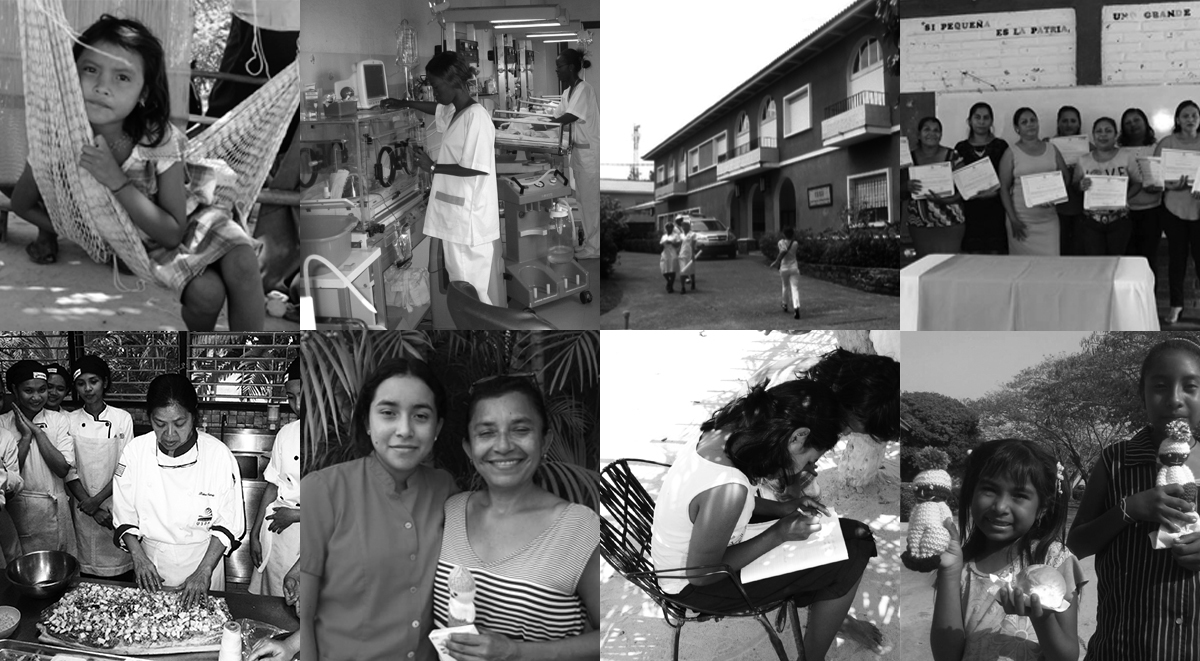 LINCCO is a Canadian registered charity (119019867RR0001) that issues receipts to donors for tax purposes.
Ways of giving
Donate online through Canada Helps
To make a monthly donation or a one-time donation on line, press the button below:
Achieve more impact – Give every month.
A monthly donation is the best way to join us to bring about stable, long-term change in the communities where we partner with local organizations.
Donate by automatic monthly payments, cheque or credit card:
To donate in other ways, please find the "PRINT DONATION CARD" button below.
Simply print, fill out and mail the response card to:

LINCCO
630 Sherbrooke Street West
Suite 400
Montreal, QC (Canada)
H3A 1E4
To make a "planned gift", please send us an email
If, after reading the following section "How to help LINCCO", you have further questions regarding donations, including requests about a planned gift (bequest, life insurance policy, annuity, etc), please do not hesitate to email us at info@lincco.org. We will be happy to arrange a telephone conference call with Ms. Silvia Ugolini, Chairman of the Board of LINCCO.
. . . . . . . . . . . . . . . . . . . . . . . . . . . . . . . . . . . . . . . . . . . . . . . . . . . . . . . . . . . . . . . . . . . .
How to help LINCCO
ONE TIME DONATION
Canada Revenue Agency provides for a tax credit against tax owing to encourage your generosity.
MONTHLY GIVING
Budget an amount from your discretionary income to become a LINCCO monthly giving leader. You won't notice the difference and in the meantime you sustain Lincco's projects in an ongoing fashion.
START YOUR OWN FUNDRAISING INITIATIVE
Spread the good work and make LINCCO known to your friends and family. Arrange a bake sale, ask for birthday, anniversary, special occasion contribution, make a contribution in lieu of wedding bombonnieres or party favors.
VOLUNTEER
Lend us your talents, whether they be tech saviness, entertainment skills, sponsorship, virtual event expertise, ….
IN MEMORIAM CONTRIBUTION
In lieu of flowers you may request contributions for one of LINCCO's projects or LINCCO's Greatest Needs.
TO HONOUR A LOVED ONE
Celebrate a loved one through a named scholarship, adopt a student award.
LIFE INSURANCE
If you wish to make a huge impact and finance a 10 year paid up life insurance policy, you will receive a tax credit on each premium diminishing the cost of a major future gift. If you have a permanent paid up life insurance policy you no longer need and wish to donate it to LiNCCO, do you know that you can get a substantial tax credit during your lifetime on this hidden asset of value?
GIFT BY WILL
Leaving a gift by will allows you to make the world a better place while balancing the needs of your family. LINCCO partners with Will Power, a national organization that helps you decide and plan a gift by will to make things easier. For more information:
LINCCO's Will Power page – https://www.willpower.ca/charities/lincco/
Legacy calculator – https://www.willpower.ca/legacy-calculator/
Common myths – https://www.willpower.ca/5-common-myths-that-get-in-the-way-of-your-will-power/
Potential tax benefits – https://www.willpower.ca/tax-benefits-of-charitable-gifts-in-wills/
RRSP/RRIF BENEFICIARY DESIGNATION
The number one asset in North America toconsider leaving to charity are these registered monies.Although a tax rollover is available when leaving them to a spouse, on second to die the entire remaining value is added as income to the estate, generating most likely top marginale rate tax on the inclusion. If you live in a province in Canada other than Quebec, you do not need to revise your will and incur legal costs. Simply designate LINCCO as contingent charitable beneficiary on your investment for. If you live in Quebec, you can derive the same tax benefits but must do so via a provision in your will.
Please note
If, after reading this section, you still have questions about "PLANNED GIVING" (bequests, life insurance, annuities, etc.), please do not hesitate to send us an e-mail at info@lincco.org . We will be happy to arrange a telephone conference call with Ms. Silvia Ugolini, Chairman of the Board of LINCCO.
The information herein-before provided offers you a general idea about the law that applies in Quebec. This is not a legal opinion nor legal advice. To find out the specific rules for your situation, consult a lawyer, notary or other professional with relevant expertise.
. . . . . . . . . . . . . . . . . . . . . . . . . . . . . . . . . . . . . . . . . . . . . . . . . . . . . . . . . . . . . . . . . . . .
Why donate
LINCCO gives Canadians the opportunity to make a lasting difference in developing countries through skills training programs that improve lives through better health services and helping people gain employment to support themselves and their families.
Our educational partnerships are changing lives in Cameroon, the Democratic Republic of Congo, Venezuela, Ivory Coast, Nicaragua and the Philippines (Dualtech and Punlaan) and Lebanon. Visit the on-going projects section of our website to learn about all our projects and also check out the completed projects section.
LINCCO also improves health care in Uganda, supporting doctors who travel to remote areas to offer treatment and medication to hundreds of people every year.
Thank you for your support!